Kat Von D's lipstick branding is no stranger to backlash. Now, Sephora may have a similar problem: a lipstick in Kat Von D's current line, named "Underage Red," has people alleging it promotes things like the sexualization of minors and statutory rape.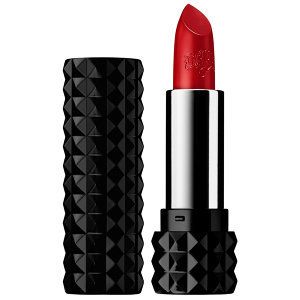 In 2012, her lipstick named "Celebutard" was highly criticized and discontinued by Sephora. In a statement to People magazine, Sephora also apologized for the "Celebutard" lipstick:
"It has come to our attention that the name of one shade of a lipstick we carry has caused offense to some of our clients and others," the statement said. "We are deeply sorry for that, and we have ceased sale of that shade both in our stores and online."
This seems to be an example of when negative publicity is still good for business. The color, out for a year, sold out after social media backlash. Kat Von D has responded multiple times to the negative buzz, explaining that she named the lipstick in reference to herself. At age 16, in love with punk rock music, Kat Von D began wearing red lipstick deemed age inappropriate by her parents. She also stated she would not pull the lipstick from her line. I do not entirely buy the story Kat Von D is selling because the lipstick collection names include Lolita*. But I did buy her "underage red" lipstick. 
Do you think Sephora should apologize and/or pull this lipstick?
Sephora has not responded but given its profitability and "cult favorite" label, it seems like the color will remain in stock. I would not be surprised to see purposeful controversy surrounding future product releases, not just with the Kat Von D brand. Of course, while this business strategy may be worthwhile because it gets more people discussing a brand, the profitability may be short-lived unless the brand's quality is so good people cannot help but become customers.
Names promoting promiscuity have not prevented Nars products from becoming bestsellers. And MAC's "underage" lip color has remained uncriticized.
* Lolita is a novel by Vladimir Nabokov. The narrator is a man in his late 30s, who is obsessed with the 12-year-old Dolores Haze. He becomes her stepfather and they become sexually involved. "Lolita" is his private nickname for Dolores.