This month's challenge is hosted by SewPetiteGal.
"

Take a bowl full of colorful candies (M&Ms, Jolly Ranchers, jelly beans, etc.), close your eyes, and draw 2-3 pieces.  Now use those colors (+ a neutral of your choosing) to form the basis for your ensemble.

"
I am more of a chocolate girl so I had to stock up on candy for this challenge and was happy to renew my Jelly Belly fever.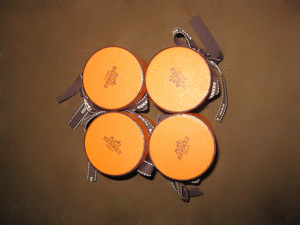 For chances of bolder color I chose different Jelly Belly bags and Skittles before picking one candy from each container.
The challenge was to draw 2-3 candy pieces to mix with a neutral of your choice with extra cool points if you did a DIY element. I chose 4 candies plus a neutral, so brace yourself…
Does your work wardrobe include a colorful work outfit? 
Depending on the work environment and dress code, I could definitely see myself wearing an outfit like this to work beyond Easter office attire. Why? The silhouette works. If you imagine this look in a grayscale, you can see the shapes are office appropriate.
Some ways to wear a twilly scarf:
as a bow on your head or tied on your wrist:
alone as a belt:
A single one as a belt and a second tied as a bow:
I love that this dress has pockets!! The fit got a little loose throughout the day so I am not happy about the fit in these pictures that were taken at the end of my day. Still, I enjoyed having a colorful work outfit. ♥