How to tell if your designer purse is real
When it comes to shopping, there is nothing I hate more than a fake. With the holiday season upon us I figured I should do my part in fighting fakes by writing a series of posts on spotting fakes.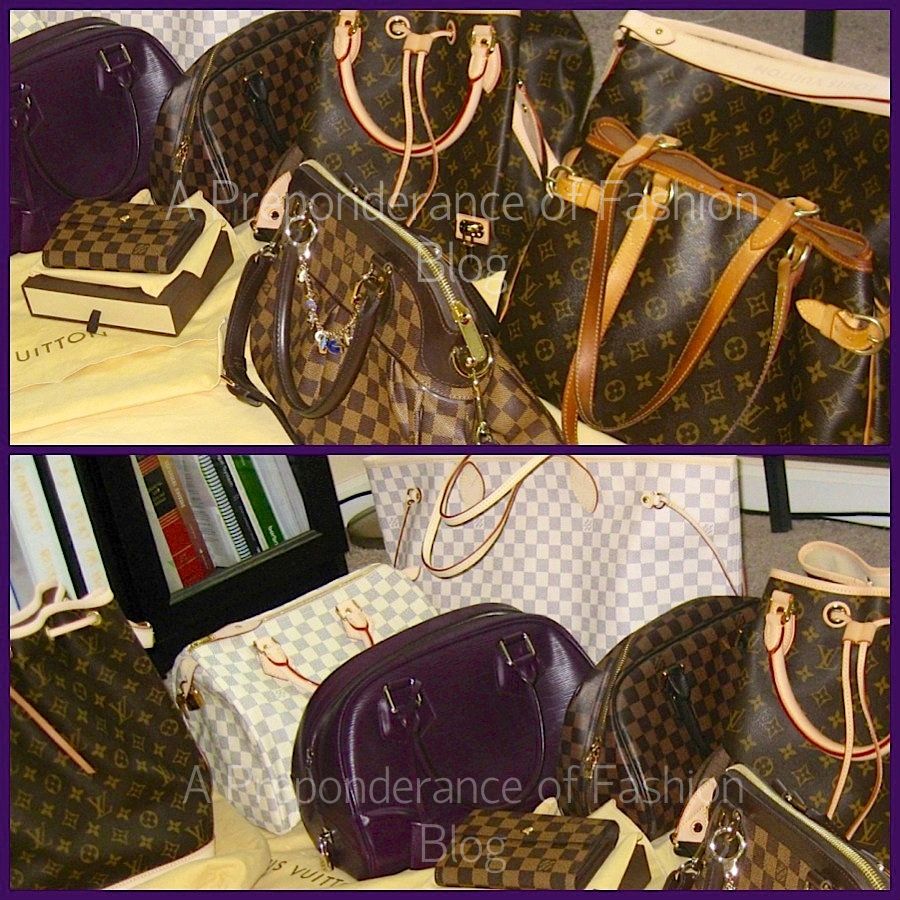 All of these are authentic and were purchased at Louis Vuitton boutiques.
Buying a fake is unfashionable and far from a harmless crime. Contributing to counterfeits may promote child labor, terrorism, unsafe work conditions, hazardous materials, drug crimes, human trafficking, and higher pricing on legitimate goods.
Authentic LV Speedy:
How to spot a fake handbag
First brand up is Louis Vuitton. As I've previously mentioned, Louis Vuitton polices its brand a lot; however, Louis Vuitton handbags and accessories are amongst the most counterfeited.
Louis Vuitton counterfeit items commonly have:
Unbelievably good prices
Hangtags
Uneven seams
Plastic, bubble wrap, or paper on handles
Tissue paper on hardware
Piping is painted or glazed red and not leather
Fraying
Rounded dust bag covers instead of square edges
Misspellings
Unfinished interior
Uneven design
Falsified date stamps
Yellow authenticity cards
Dark brown envelopes, usually with stickers that have LV trademarks

 

Plastic hardware painted to look like brass or gold metal
Items Louis Vuitton never made (e.g., Cherry blossom print on a speedy or alma)
Louis Vuitton does not sell irregular bags. Not even as a discount. One time I was at the large Paris location and the sales associate was cashing me out when he realized the store no longer had the particular bag I wanted because the one showing in the system was the display one. The handbag had a tiny pen dot on it so the associate refused to sell it to me. I said I did not mind the mark. He said it was over-handled and the sale would represent the brand poorly and thus he could not sell it.
Best ways to tell if a Louis Vuitton is real:
Make sure it is a style Louis Vuitton actually made
Handles are made of rolled cowhide leather
The untreated leather oxidizes/ages well
Monogram is lined up and cut evenly
Even and clean stitching
Handbags are now made in France, U.S.A., Spain, Germany, and Italy
Educate yourself: visit an LV boutique, browse the LV website, or call an LV store

 

Check if the style was made in the fabric you want
Verify if the inside for the particular style is supposed to be in suede
Is it supposed to have a D-ring inside? Where?
Where can you find the date code? What is the correct font and size of code?
Recognize the font LV uses
Do you have other tips to share? 
While the "designer" purse in Chinatown with matching wallet and belt bought for a total of $200 may seem like a great deal, I can assure you someone else negotiated a cheaper price and your "deal" has much greater consequences than a fashion crime.
Keep in mind that not all counterfeits are created equal. Some counterfeits are actually made of leather and some people sell real LV dust bags and shopping bags, etc. So you need to exercise caution when shopping and receiving a designer purchase.