Beyond the Rack sells fakes.
On February 16, 2016, Gucci filed a lawsuit against Beyond the Rack.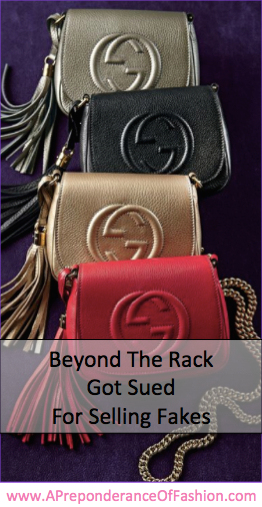 Gucci v. Beyond the Rack
This fashion law case concerns the unauthorized sale of allegedly counterfeit Gucci purses.
Trademark counterfeiting, trademark infringement, and unfair competition are alleged.
At least four unauthorized bag styles are noted in this lawsuit. This May 2015 article by The Examiner shows photos of Gucci bags priced up to 80% off retail — some priced under $100.
Beyond the Rack was never an authorized Gucci distributor. But as is the case with many discount retailers, Beyond the Rack boasts designer items that it does not necessarily get directly from the designer fashion house.
Gray goods
Sometimes discount retailers get products from valid distributors who were unable to sell the goods or had to get rid of the goods due to some reason such as a surplus. The problem with such a transfer is that the original contract made between the original brand and the authorized distributor often has a clause forbidding such acts.
The goods in such cases are part of the gray market. Products of the gray market are called gray goods. Gray goods are authentic branded goods sold outside of the brand's authorized territory or dealer.
Counterfeit goods at Beyond the Rack
Last summer, there were complaints of Gucci counterfeits on the Purse Forum.
Multiple people had authenticity problems with Beyond the Rack items. The customers noted bad customer service and negative return policies. Finally one member updated that Beyond the Rack no longer had an authenticity guarantee.
Beyond the Rack is not authorized to sell — much less advertise in site imagery and media — that it sells Gucci, since the retailer is not an authorized Gucci distributor.
Gucci discovered the bad acts via customer complaints regarding product quality of items purchased from BeyondTheRack.com
Possible defense for Beyond the Rack
The first sale doctrine may be used as a defense by Beyond the Rack. The first sale doctrine shields resellers of genuine trademarked products from liability for trademark infringement.
In such a case, Beyond the Rack's ads and website would be reviewed to see if the placement and announcement of Gucci products would be likely to mislead consumers as to the source.
However, since Gucci is alleging that the products themselves were also counterfeit, the first sale doctrine may not be a successful defense here.
Fashion law lesson
Counterfeits are not only found at websites that do not seem trustworthy and ones that use a brand's name along with a sale term such as outlet in the web address.
Also, just because an item is a gray good does not mean it is necessarily a counterfeit.