A Black woman was forced into court with no pants on. No skirt was provided either.
On July 29th, a Black woman was transferred all the way from a Louisville prison into a Jefferson District Court… wearing a shirt. The woman was in prison for failure to complete a diversion program on a 2014 shoplifting charge.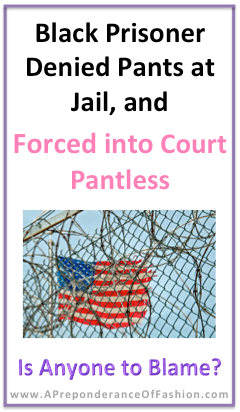 According to jail officials, she was wearing athletic shorts. But the woman showed up in court without pants. She said she was repeatedly denied appropriate clothing.
Maybe this would not have happened if her top was a crop top.
Are Kentucky jails allowed to withhold clothing from prisoners?
Jails in different states approach clothing an inmate differently.
For example, in New York prisoners wear their own clothes until after sentencing hearings. In New Jersey jumpsuits are immediately provided.
Where this happened in Louisville, KY., arrested individuals generally keep their own clothing for the first 72 hours.
Should jails dress prisoners for court?
Whether or not a prisoner is generally allowed to wear their own clothes or given jumpsuits in jail, they should be dressed in court.
If a transfered prisoner ends up in a courtroom dressed inappropriately, I think the jail has some culpability. Judge Amber Wolf would probably agree. In the courtroom videotape (posted below) Wolf tells the woman:
"There's only one way this is going to change…if you know what I mean."
Are prisoners running around without pants?
The woman told the judge that several women at the jail were similarly dressed and not given uniforms. She also said she was denied feminine hygiene products.
Wolf immediately took out her cell phone and phoned someone to inquire about what is going on at Metro Corrections. She then demanded that someone get something for the woman to wear before being released on time served and a $100 fine.
*If video of the Black defendant denied pants at jail does not appear above, please refresh your browser.