When I tell some people about my love of fashion law and brand protection they sometimes mistake my support of high fashion to mean that I only want to protect big fashion houses. Truth is, as an artist myself, my preference is fighting for the original creator. Enforcing and protecting an individual's authentic creations is a desire of mine that extends to creators of all levels. So, although I think it would be amazing to work in-house for Chanel, I don't hesitate here to call out the fashion house for infringing on the design of a small designer (here).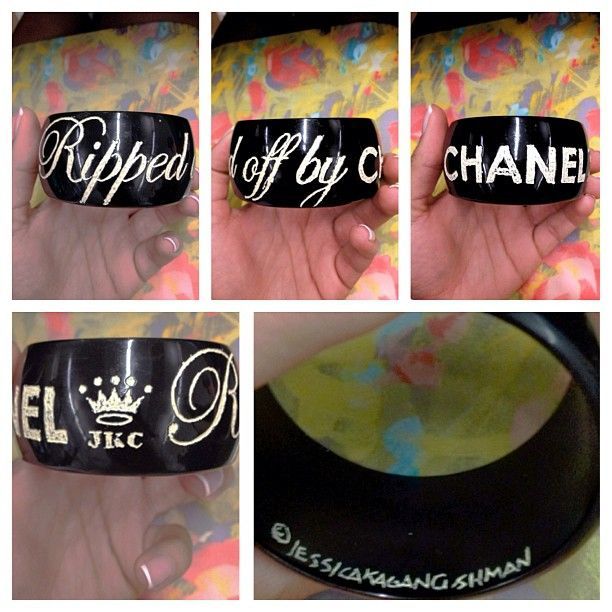 If you designed something and had to choose between being copied by a famous designer or a small company, which would you pick? And how would you react to the copying?
Jewelry designer Jessica Kagan Cushman makes wide bracelets with etched phrases. Back in 2007, Cushman's bracelet gained lots of popularity. They even caught the attention of someone at Chanel and the brand started making their own knockoff bangle bracelets with etched-style phrasing.
Cushman's original bracelets, from her Resin Nantucket Bangles collection, were made of ivory mammoth tusks and inscribed with witty sayings. The Chanel knockoffs were made of plastic resin (yet amassed a waiting list despite a $600 price tag). In the U.S., jewelry designs receive copyright protection while fashion knockoffs are allowed (as I explained here). Cushman did not have much legal recourse here since the idea of inscribing words onto jewelry is too simple to be protected and Chanel's knockoffs posed no customer confusion.

So what is a girl to do when she is wronged as so?
Well, Cushman created a retaliation bracelet that literally alleges that Chanel ripped her off. I think this was a good move to help work against the fear that customers would confuse her work to be the copies.
Chanel's copying of up-and-coming designers repeated itself recently when Chanel copied Pamela Love (read more here, via Fashionista).
♥
Thanks for reading and supporting my blog!
♥
[Edited update: instagram user "michcant" left me a message on instagram saying that Chanel has recently copied this Cushman design again. Want to support the original designer? Then check out Cushman's collection online at http://www.jessicacushman.com/]