Novelty Textile was awarded $650,000 in statutory damages in its fashion law case against Hot Shot HK.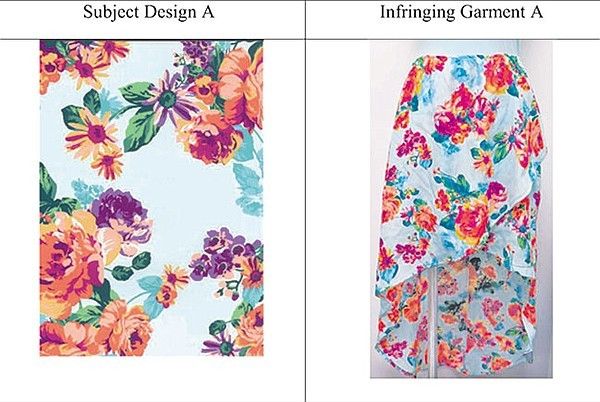 The copyright infringement lawsuit, filed in U.S. District Court in L.A., on July 31, 2013, concerned three different fabric design copyrights. Hot Shot HK, doing business as Brat Star Inc., placed purchase orders for fabrics and shortly after canceled the orders only to have the fabric copied and produced in China. The fabric designs were subsequently made into clothes sold to The Wet Seal.
Do you think the floral Wet Seal skirt infringes Novelty Textile's floral fabric design?
One of the fabrics had a yellow daisy design on a black background; another had a floral design in mint, orange and green; and a third fabric had a geometric design in blue, pink and teal. Novelty Textile copyrighted the designs in question back in 2012.
Independent creation is a defense to copyright infringement. This is when two creations are alike but created without knowledge of the other. In this case, the defendants became aware of the print and intended to use it when the purchase order was made. Defendants then carried out the same design idea via a different party. While initially the designs look similar to me only in the same way that any floral print before a sky blue color would, the facts make the intentional infringement clear.
It is currently difficult to check copyrighted print designs at the U.S. Copyright Office. These copyrighted designs are listed by number or name without accompanying photos or drawings.
In the U.S., more than a few hundred lawsuits concerning fabric print copyrights are filed each year. Perhaps Google image search should team up with the Copyright Office. And while I am throwing suggestions to Google, let me also suggest myself as the person to draft a licensing agreement between Google and the U.S. Copyright office. 😉