Kate Spade Saturdays
Have you heard of Kate Spade Saturdays?
In 1993, Kate Spade launched her–now infamous–nylon handbags. I wasn't a fan of her purses but I remember their rise in fashion. They were even copied by Banana Republic. -BR was sued by Kate Spade and settled out of court with an agreement to cease sale of its copies. Similar cases followed. In 2000, my mom dabbled in the multi-stripe collection. I wasn't lured into the brand until this year: I couldn't resist the bangles!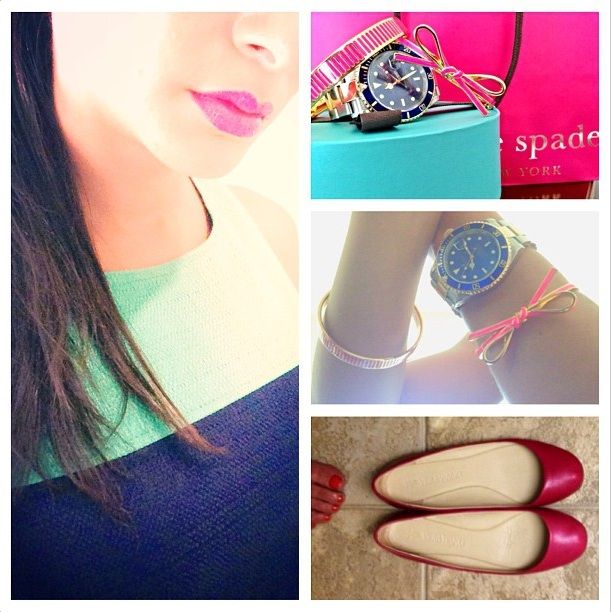 Two of my Kate Spade Bangles. -Pic from my instagram feed
My appreciation for the brand has grown as it developed into a lifestyle brand with a traditional base twisted with a whimsical and colorful approach.

I previously mentioned tweeted that the owners of Kate Spade New York (Kate Spade) were selling off their other brands in preparation for a deeper push of the Kate Spade brand. The brand also opened a flagship in New York on Madison. Kate Spade Saturday, Kate Spade's sister brand, has received some coverage lately due to a fashion law issue.


Fashion law case
Last December,
Saturdays Surf LLC's attorneys demanded that Kate Spade New York drop its plans to launch Kate Spade Saturday.
Saturdays Surf LLC is a menswear company that sells casual clothing, surfboards, wet suits, and accessories. On hipster-chic streets it goes by the name "Saturdays."
In turn,
Kate Spade filed a complaint seeking a declaration that Kate Spade Saturday does not infringe on the trademark of
Saturdays Surf LLC.
On June 17th,
the U.S. District Court for the Southern District of New York issued a decision
in Kate Spade's favor related to the Kate Spade Saturday brand name and logo against Saturdays Surf NYC.
Saturdays Surf NYC still thinks the logos are too similar. See the circle logos below for comparison.
Below is the most damning evidence against Kate Spade Saturdays. Nope, not too damning. The part that might make your lip curl is that aside from the emphasis on Saturday the new mark is on similar yellow colored background.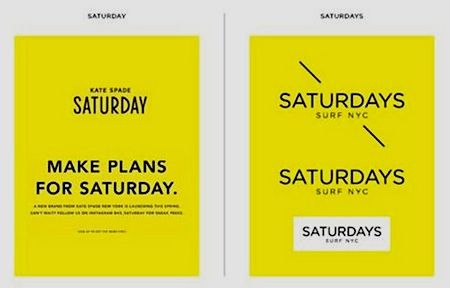 With recent fashion law fights concerning color mark (Louboutin v. YSL post available here) you might be thinking Saturdays Surf NYC can claim infringement because of the color background paired with the emphasized Saturday. Well, that is a good thought. It is wrong here because that yellow background is only one of several colors the brand uses in a rotation. This rotation works against a trademark because it waters down public perception of the color associated with the word mark. For example, Louboutin making a line of blue bottomed shoes for brides would work against his red bottom rights because the red would not continue to serve as a brand indicator.

Speaking of Louboutins and Kate Spade, here is one of my recent Instagram pictures featuring products from these two designers.
Designers should create their own sister brands rather than utilize brand licensing.


We have recently seen an emergence of high-low brand collaborations. That is one way to build consumer base and also to help prevent knock-offs. Knock-offs are possibly prevented here since the design is already provided at an affordable price point. Therefore it should come as no surprise that creating sister brands at different price points helps cover a brand from knock-offs. The idea is that the brand is already knocking itself off so fast fashion brands would be competing with the originators at presumably reasonable prices.
Armani takes smart advantage of different price points: Armani Privé, Armani, Armani Collezioni, Emporio Armani, and Armani's licensed Armani Exchange brand.

Priced at 50% less than the price point of Kate Spade New York, Kate Spade Saturdays is more affordable than its sister brand. Designers should create their own sister brands like these so that they can make knock-offs of their higher end pieces available to the public quickly and affordably to the people who would otherwise get the look from a fast fashion company. Licensing is beneficial in other ways but sister brands are a good way to minimize competition on original creations.
♥
Thanks for reading and supporting my blog!
♥