Alessandro Michele has been praised for doing a great job as Gucci's Creative Director. But not all of Michele's moves are impressive. This includes aligning products as badly as cheap counterfeits and featuring gaunt models.
Alignment
The material at sides of bags can be aligned. So, if I am charged a premium price on a handbag, I expect the material to be aligned.
Do you care whether patterned material at the sides of your bag line up?
More time and fabric is needed to make sure material perfectly aligns. Unsurprisingly, misaligned fabric seams are usually signs of counterfeits or cheaply made purses.
Quality Control
Generally, Gucci's craftsmanship is great. And when a product isn't so great, Gucci stands behind its product by fixing problems.
I do not believe Gucci would be purposefully careless in the manufacture of its accessories; however, I do see a problem with how purses are being made. Gucci purses do not all line up evenly. Some Gucci purses line up well but some purses have seams that do not ever line up. Consequently, I think Gucci has a quality control issue.
Anti-counterfeit measures
New Gucci totes, including the GG Supreme tote with Tian print, are made with Gucci's new reversible leather. This reversible leather is patented exclusively to Gucci.
A patent is great to use in court along with the copyright and trademark claims that counterfeit purses commonly cover. But what is even better is creating items that are difficult or unfeasible replicate.
An aligned bag is not impossible to replicate but counterfeiters like to keep their profit margins high so they usually ignore alignment details. This action is not something I expect from a luxury fashion house.
Check out the seam alignment of the following Gucci totes.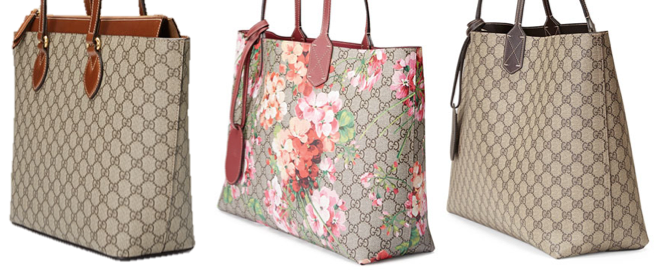 Bad Gucci Cruise 2016 Ads
Aside from questionable quality control or manufacture requirements for Gucci purses, Gucci's Cruise 2016 ads are problematic.
The above photos were part of the Gucci Cruise 2016 campaign. When these photos were featured in The Times of London in December, readers complained of the inclusion of incredibly thin models.
The UK's Advertising Standards Authority has now weighed in. It banned Gucci's further use of the ad images.
The Gucci Cruise 2016 campaign itself expired at the end of December 2015, so Gucci will not technically be affected. Except for the ads possibly gaining further exposure by this controversy.
The ASA found the image of a model in a long dress leaning against a wall to be especially heinous. In response to the unhealthily thin and frail model, the ASA called the ad image "irresponsible."
The ASA said the model's torso and arms
"appeared to be out of proportion with her head and lower body."
Both Gucci and The Times acknowledged that the models used have a slim build, but Gucci claims to believe that the models
"were not depicted in a way that could be interpreted as unhealthily thin."
Gucci told the ASA the advert was aimed at an older, sophisticated audience and that it felt the model appeared "toned and slim."
More Gucci Cruise 2016: