By now we are all too familiar with places like Forever21 being taken to court for their blatant knock-offs inspired creations. The fine line design level between inspired or counterfeit is a knockoff.
Well, today while walking past the jewelry counter at Target, I was inspired to write this fashion law post.  Under the glass counter I saw Target's messy little display of Hermès-inspired bracelets.
Pictured above is an iPhone snapshot I took when I spotted Target's versions of Hermès's popular CDC (collier de chien) cuff and double wrap leather bracelet.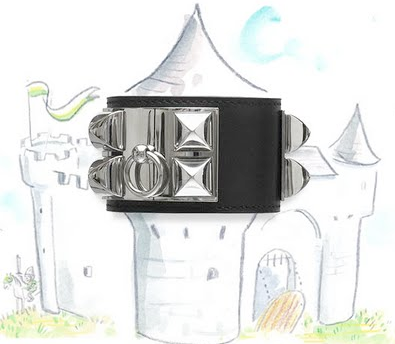 Hermès bracelets cropped from online screenshots of the Hermès website.
This copying is an ongoing issue in the fashion industry. Some people see such copying as necessary to move fashion forward. The idea is that when a trend moves from luxe to widespread fast fashion designers are encouraged to design something new. Yet the opposite can be true: if a designer feels that designs will just be knocked off my another seller or a fast fashion retailer than can out produce and undersell the original designer's work, the designer may be actually be discouraged from producing something new.
Do you think Hermès should try to stop actors like Target or do you think the Target copies are unique enough?
Although use of the actual brand name is not necessary for IP infringement actions, these Target knockoffs are not counterfeit level copies. When similar copies add fake Hermès branding the items do become counterfeits and ripe for a false designation of origin, dilution, and brand tarnishment trademark infringement actions by Hermès.
In the U.S., jewelry may be copyrighted. If a designer has a truly unique design, it is encouraged that the designer get IP protection that way. If the design does not have a copyright, a knockoff may be perfectly legal.
Do you think fashion designers should have stronger IP rights? Should these rights be limited to trademark issues or do you think fashion designers should have additional copyright protection?
I personally am crossing my fingers for more protective fashion rights but I am not sold on the current Innovative Design Protection and Privacy Prevention Act (IDPPPA), a bill sponsored by Schumer. I love the stronger protection direction IDPPPA would take; however, as it stands the Act does not cover all my concerns and goes a bit overboard in some areas.
For example, I love that in our system works of art are automatically copyrighted. While I would not want that to change I think that copyrights for designs should mandate a registration process. I also think that the registrations should be easy to find and free to search to prevent financial stress on small companies.
---
On a counterfeit fashion law note, I like that the U.S. Immigrations and Customs Enforcement (ICE) shuts down counterfeit fashion domains.  Overnight Tech just announced that ICE seized 16 such domains due to their sales of counterfeit goods.
In all seriousness, how does someone land such a position with ICE? Someone please sign me up.