Early this year, the Adidas Yeezy 750 Boost sneakers were released. Sneakerheads and Kanye lovers alike flocked to them. Unfortunately, the $350 sneakers had quality issues. The side zippers were reportedly coming off track and Adidas did not provide a fix, only a refund.
Fashion law round two for Yeezy Boosts
Kim Kardashian called out Ben Baller on posting an image of a counterfeit of her husband's acclaimed sneaker.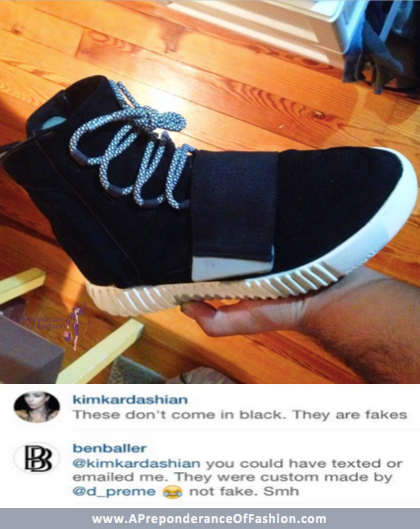 Well, it turns out, Ben Baller customized his grey Yeezy Boost sneakers to black, and he naturally posted the Black Yeezy Boosts on his social media. Ben Baller was offended that he was accused of posting a fake. We should all #FightFakes
Aside from his response to Kim, "benballer" continued his response with:
"Is it really that serious? These were custom made from original Adidas Yeezy Boosts. I got my first job with Nike back in 2002 with Methamphibian customizing AF1's. I have Python AJ1's which aren't fake. It's not that deep people. There's bigger shit to worry about."
I am quite surprised Kanye did not make a comment.
P.S.
Here is how to spot fake Adidas Yeezy 750 Boost's