Let's end the clothing parody infatuation.
Designer infringement clothing parody tops and hats were everywhere a few seasons ago.
I found these post-infringement parodies annoying. So, I refused to dedicate any of my blog's virtual real estate to clothing parody topics. Until now.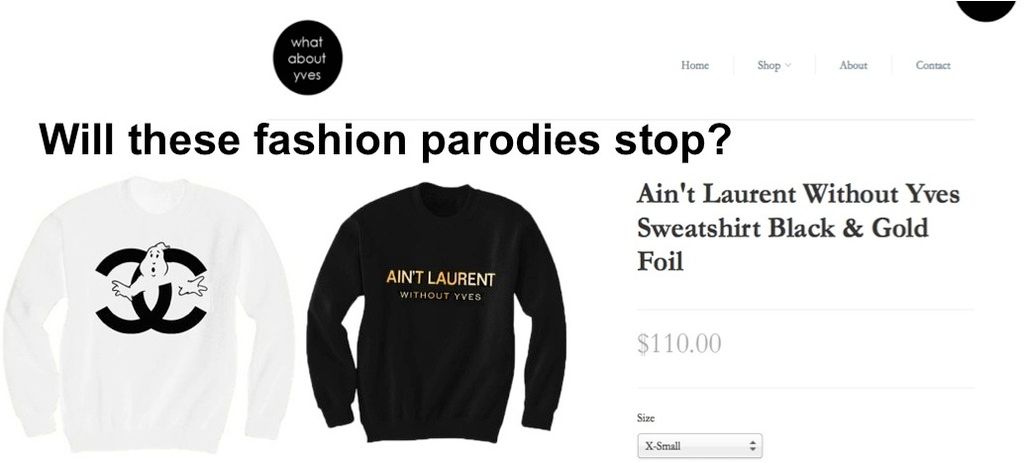 Designers against clothing parody player J Heller.
In October 2014, Chanel sued Jeanine Heller, owner of What About Yves clothing line, over use of the Chanel logo (shown above). But a judge never ruled on the case because the parties settled.
Now, Luxury Goods International, owner of YSL marks, (yup, LVMH does not own everything yet) sued Heller over her use of YSL marks.
This trademark lawsuit includes the usual claims: dilution, false designation of origin, and unfair competition.
Do you think fashion parodies are infringing on the rights of the mark holder?
Heller began her line in 2013 following Hedi Slimane's decision to change Yves Saint Laurent to Saint Laurent Paris.
YSL claims that Heller ignored its repeated attempts to notify her of the infringing nature of her line. Heller also continued to sell the tees on her website and other retailers including Colette.
YSL's claims are unsurprisingly similar to the ones Chanel had.
Chanel's lawsuit pointed out that, far from "transforming the mark," which is a standard defense to trademark infringement, Heller used the "clearly recognisable CC monogram mark [on] her own clothing precisely because of the iconic status of the mark, with knowledge of its association with Chanel, in order to call to mind Chanel."
Heller continues to sell "Ain't Laurent Without Yves" tops.
Even a week after LGI filed its suit in the Southern District of New York court, Heller continues to sell her "Ain't Laurent Without Yves" tops.
So, join me and cross your fingers in hopes that good style and jokes emerge in place of these brand parodies.