Bonjour mes amis!
By now you fashion lovers out there probably recognize Givenchy's $1,695+ knee high sheath boots:
Can you decipher the difference between a genuine item and a knock-off?
I recently turned my attention back to this style of Givenchy boot because the shark lock style has been used in new styles. (See post end).

-When I first saw these boots last year I almost wrote a blog post because I thought they looked inspired by Hermès. When I bumped into them while shopping at a department store, I realized they had their own identity and I was elated to find them in my size! The hidden wedge is high at 4 1/2 inches but I figured I could overlook that by being sure to wear them when I'm not in a rush or walking more than one mile. What was not okay to me was that–due to my short legs–when I sat the boots would crease and dig into my leg.

Well, as Hubert de Givenchy noted,
"Luxury is in each detail"
While searching for the details of the shoes (leg circumference, heel height, etc) to buy a new pair sight unseen, a google search led me to my fashion nightmare: uninventive knockoffs that by law should be labelled infringements.
The most notable knockoffs I found are by Jessica Buurman and Choies. I know, I know, a different blogger would be announcing these as a "look for less" post.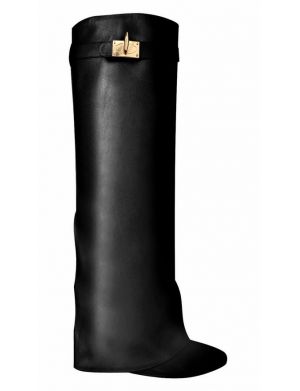 Jessica Buurman currently on sale for $169.00
I love the new double loop because it is more differentiated from what I originally considered an Hermès appearance with the single lock.
♥
Thanks for reading and supporting my blog!
♥