How to tell if a Moncler coat is authentic
In good fashion law news, Moncler has been successful against many counterfeiters. The bad news is that many remain. Whether you are purchasing a Moncler coat or received one as a gift, it is not always easy to tell whether the Moncler is fake.
Can you decipher an authentic Moncler coat from a fake?
Use this guide as a reference to check authenticity of Monclear models from the last decade.
In its Autumn/Winter 2008 collection, Moncler added a new anti-counterfeit measure: a certilogo tag with a unique 12-digit identification code pertaining to each jacket. However, Moncler moved to its own authentication system in 2013. It now uses QR codes and you can 
register your Moncler jacket
. If your entry matches their system you will be thanked for registering; otherwise you will be asked to contact customer service.
Moncler items on auction sites
Many Moncler styles and colors are counterfeited. But the most popularly faked and found on auction sites are the Branson, Lucie, and Quincy models. The Lucie model has not been produced since 2007 but they some how keep appearing as "NWT" on auction sites.
If you are shopping on an auction site, request pictures that show the location of labels and patches. Do not rely on closeups.
Moncler coat cartoon
Not all Moncler jackets have the cartoon logo on the inside of the jacket. If there is one, it is located on the lower left hand side on the inside of the jacket. The authentic cartoon will have a slightly faded look. The ink on the fakes are usually too saturated and bright.
Moncler labels and zippers
The Moncler size label is located right below the Moncler label. Starting with the Autumn/Winter 2007-2008 collection, the size label may be been located at the shoulder seam. The size label is not attached with the care labels. The size should be numerical a la French sizing—not S-M-L.
Moncler never uses nylon zip pulls or silver circular zippers.
Do not just look for the markings to be there. Sophisticated counterfeits will have the seemingly correct markings. Examine the marks for validity. Scrutinize labels, printing, stitching, and symmetry.
An authentic Moncler logo patch is machine cut evenly. The Moncler name follows the round bottom. Notice that the three authentic logos below show evenly spaced characters. Then notice the lack of proportional spacing or kerning on the eight counterfeit logos below the real three: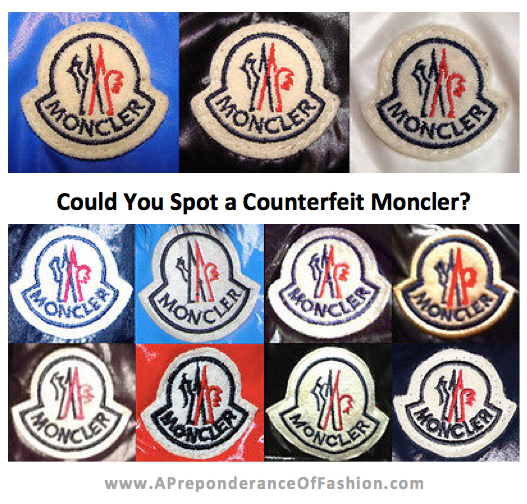 Do you have other tips on how to tell if a Moncler is real or fake?