Remember the Nike v Adidas case I recently reported here? Well, a Nuremberg District Court in Germany ruled in favor of Adidas on November 1st.

In response to Nike's patent infringement claim, Adidas counterclaimed that the technology has been around since the 1940s and requested a revocation of Nike's patent. (For smaller updates like the upcoming ruling from Germany's patent court, follow me on twitter).

Unfortunately for Nike, I am not sure the brand will have more luck in its current (unrelated) trademark infringement case in the USA.

Case intro
In July 2009, Nike filed a case against Already LLC (and its Texas based footwear brand, Yums) alleging the company had a shoe design that was a confusingly similar imitation of Nike's Air Force One sneakers.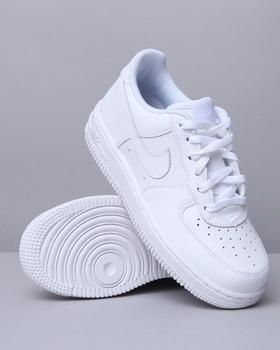 Do you refer to these sneakers as "Uptowns"?
Background
Nike trademarked this shoe design in 2008 although the design was introduced in 1987. I know what you are probably thinking and yes, Nelly (an American rapper) has a song called "Air Force Ones" and it is about these sneakers. Ok you probably were not thinking of that but I figured I'd note that the song was released in Nelly's 2002 album. So the song came before Nike's trademarks for this design.

Legal issue
The case is now before the Supreme Court for review. The issue is whether a federal district court is divested of Article III jurisdiction over someone wishing to pursue a claim against a registered trademark without there being an existing conflict alleged by the trademark holder against the other party's existing activities.
Are these sneakers confusingly similar to the Nike pair above?

The ruling here is critical because it can potentially open a floodgate of people filing frivolous, time consuming, and/or costly claims against trademark holders. If allowed to file these claims, people could also threaten such legal action.


Case background
In November 2009, Already LLC counterclaimed requesting cancelation of Nike's trademark because it interfered with
Already LLC's ability to sell footwear
. Then, in an attempt to avoid continued litigation, Nike created a covenant not to sue.
The District Court then met to determine whether the covenant caused the court to lose subject matter jurisdiction (SMJ). This court then
dismissed the case after
it found that it no longer had SMJ.
You can check out the court proceedings here via the Supreme Court of the United States blog.
UPDATE: Check out these latest interesting Air Force 1 variations.



♥
Thanks for reading and supporting my blog!
♥