Once upon a time at a Vogue festival, Stella McCartney claimed flattery over knock-offs. Fast-forward to this week, Stella McCartney sues Steve Madden over her Falabella bag.
Many consumers love the look for less but there is a thin line between inspired and infringing.
Can you tell which is the Stella McCartney bag?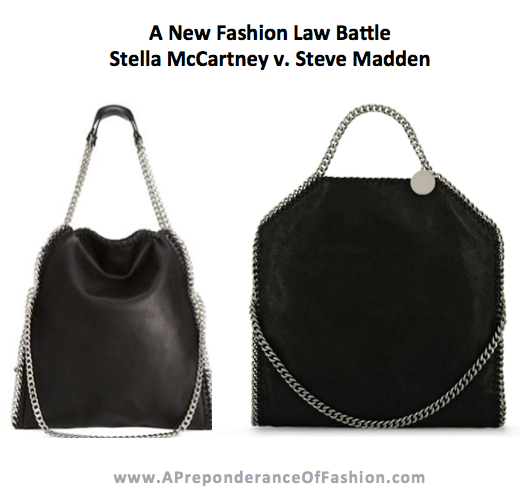 About McCartney's Falabella bag
Stella McCartney's Falabella bag was launched in 2009 and remains a well received piece. I dare declare it is the first iconic vegan fashion item.
The Falabella bag's price starts at $1,195. In 2012, McCartney used the distinctiveness of her Falabella tote to obtain design patent protection.
Steve Madden's BTotally bag (above left) retails for $108. The difference? The top of the chain strap features a covered material that sits on your shoulder. Clearly it is a care of a copycat correcting a product flaw, because I imagine that Madden's version would cause less hair to be caught in the chain strap. 😉
Allegations
McCartney says that Madden's knockoff is very similar to her bag design but of inferior quality, so it will tarnish her reputation.
The 22-page complaint document filed in a NY court on October 6, shows that McCartney's attorneys seek an injunction to prevent Steve Madden from further sales and marketing of its BTotally bag. Legal claims against Madden include trade dress infringement, unfair competition, deceptive trade practices, trade dress dilution, and design patent infringement.
Should Steve Madden's BTotally bag be banned?
This fashion law case would go beyond the usual likelihood of customer confusion to actually compare Steve Madden's copycat BTotally bag to the McCartney's design patent.
Design Patents
Stella McCartney owns United States Design Patents D654,691 and D646,894. These design patents claim protection over an ornamental design for a chain trim detail for handbags.
Trade Dress
The Falabella bag's trade dress elements consists of:
the continuous chain attached to the main body of the bag;
attached by means of whip-stitching;
the chain itself extending beyond the top of the bag to form handles, as well as the edges of the bag and its opening; and
the bag finished with whip-stitching of a similar size to that used to apply the chain.
The Falabella trade dress is non-functional and inherently distinctive and thus it acquired "secondary meaning" with tote bags. Steve Madden is not a stranger to fashion law complaints and allegations of infringing. Only time will tell whether Steve Madden's attorneys will settle this case outside of court or try to drag out the issue.
For further reference, check out McCartney's Falabella collection below:
Do you think the bags that follow are looks for less or Stella McCartney totes?
P.S.
For a quick overview of tarnishment and dilution, see my American Gangster Business Lesson video post.