Fashion law case concerning Uggs
Eddie Oygur of Australian Leather is fighting to use the word 'ugg.' This Sydney manufacturer of ugg boots is facing an uphill battle against Deckers (owner of Ugg Australia) in a US court. Ugg Australia constantly protects against others describing their sheepskin boots as "ugg" boots.
Ugg Australia makes the ugg boots celebs usually wear.
Ugg Australia has "Ugg" trademarks in many USPTO categories and well as in the EU. Recently, on May 5, 2016, Deckers applied for the Ugg mark in connection with online retail services. This registration may be a move to knock competitors' websites down.
Australian Leather Pty Ltd has manufactured ugg boots since the early '90s. The company uses Australian sheepskins to make an average of 50,000 pairs yearly.
Ugg trademark case filed against Australian Leather
Although "ugg" began as a general term for utilitarian Australian sheepskin boots centuries ago, it is now a trademark of Deckers. The USPTO officer who allowed the term must not have known of the colloquial use.
Deckers filed a court action calling for sweeping orders. These include requests for all of Australian Leather's ugg boot stock to be delivered to Deckers in the US for destruction, all funds in the company's bank accounts to be transferred to Deckers, and millions of dollars in punitive damages.
It is customary for counterfeits to be delivered to the rightful brand owner for destruction. But–whether or not their use of ugg is lawful–Australian Leather is not making counterfeits.
Should the Ugg trademark be canceled?
Many brand owners use trademark counsel to clear new marks with respect to traditional trademark concerns such as inherent distinctiveness and likelihood of confusion with prior marks. So some trademark clearance opinions ignore trademark law's cousin in the Lanham Act: false advertising.
Trademarks should not be misleading or cause unfair competition.
The FTC has the statutory power to cancel trademarks it finds generic or prohibit the use of trademarks that constitute false advertising.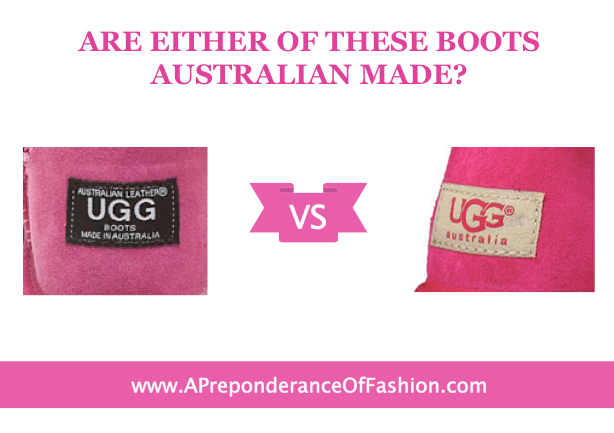 Is the Ugg Australia trademark false advertising?
Having "Australia" under the Ugg logo may lead consumers to think the shoes are made there. But Ugg Australia products are made in China. They are NOT Australian boots.
Trademarks may be challenged as false or misleading in any of the following scenarios:
Competitor challenges in federal court under Section 43(a) of the Lanham Act;
Consumer class actions under state deceptive trade practice and unfair competition laws;
If "ugg" is a generic term, Ugg Australia's trademark is unacceptable.
Australian Leather thinks Ugg Australia's marketing in Australia may breach Australian Consumer Law.
Is this fashion law case a missed GI fight?
Australia could have taken ownership of "uggs" as a geographic indicator (GI). In which case, so long as anyone used the term in an accurate way, it would be deemed fair use.
Geographical indicators are indicators which identify a good as originating in the territory of a country, a region, or a locality, where a given quality, reputation, or other characteristic of the good is essentially attributable to its geographical origin. Like champagne being from Champagne, France.
Certification marks are used in some countries, GIs in others.
GIs must be protected like a trademark, to prevent them from becoming generic and dying as a result of genericide.
A GI can be saved by changing the consumer's knowledge of what the name indicates.
An example of fighting genericide is the Chanel ads advising people not to say something is "Chanel style." An example of a GI doing it is when Champagne did a campaign explaining that while sparkling wine is bubbly like champagne, the importance of terroir (land–and essentially geographic area, climate, and else that may affect taste) comes into play, so the only true champagne may only be found in Champagne, France.*
Once consumers' attitudes are changed, you may be able to legally claim the name back. Australian Leather may be pursuing a similar tactic: it has started a Change.org petition to protect the Australian ugg boot industry.
Can you identify Ugg Australia boots without seeing the brand logo?
Ugg Australia's trademark should be limited
In light of the ugg term being generic, I think Deckers is being a bully. They offer Australian Leather and others a licensing agreement instead of facing a fashion law battle, and rightfully police their trademark, but I do not think they should own the ugg term.
The ugg term was and should continue to be considered a generic term. To provide otherwise would be like allowing anyone to appropriate the name and style of goods from another culture or region and preventing the original users from continuing such use.
For updates on this Ugg trademark case and other fashion law topics, find me on Twitter.
---
* You may be familiar with Korbel winery in California. This is the only sparkling wine allowed to call itself Champagne outside of the Champagne region of France. This use is allowed because the winery used the term for a long time. Enough time that the use was known and too much time passed so laches attached before the use was stopped.