Can you be chic on a budget?

After perusing NYFW must-haves I decided to address being chic on a budget. As a rule, I suggest only splurging on the latest "it item" if it can transcend several seasons.
Case study: Fendi monsters
Today's trend may be tomorrow's statement piece

I prefer to wear classic pieces and reflect trends through my nail polish. If I want a trendy piece I opt for a non-infringing high street expression of the trend. Then there are trendy items that won't read antiquated after a season or carry the same stigma of being outdated. These are commonly unique styles that can remind us of when they were released but remain conversation starters in a positive way. Sometimes these pieces are introduced as part of a limited collection. Other times you must recognize the pieces as art. The Fendi monster collection serve as good examples.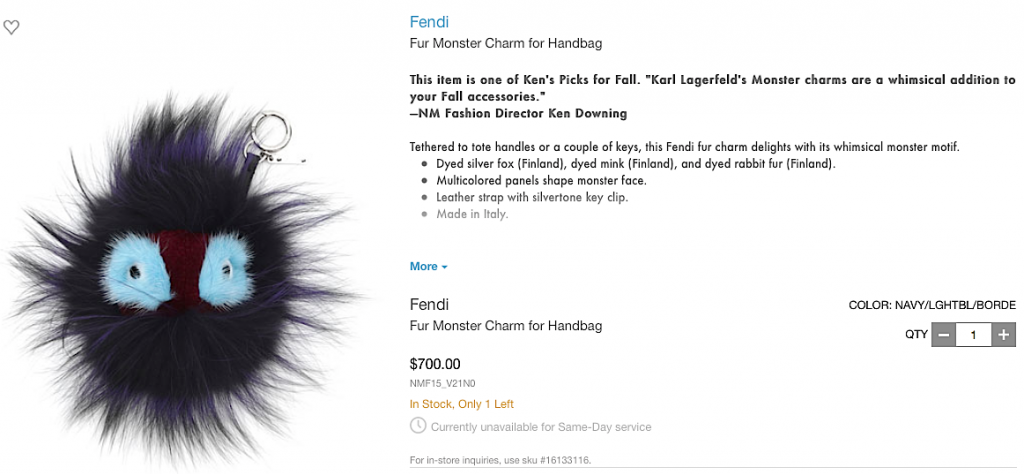 Last Fall, I was finalizing my decision on my pet Yorkie son, so my friend introduced me to fur monsters as an alternative pet option. Luckily they were only available via pre-order at Neiman Marcus and my non-necessity money was earmarked for my living fur-baby.

Given that the Fendi monster accessories were released along with a matching 'monster' RTW collection, these little fellas may now be considered a trend. I say this in the sense that they may be phased out as part of only a limited number of collections. Still, if you think these accessories are cute, I say go for them. They come at a high price point but have the potential to become items that you are unable to later track down. They are unlike a garment that easily gets outdated.
Fendi monster products are simply a matter of taste and can cohesively exist in your wardrobe with styles of different eras (unlike the revived fringe trend that we last experienced in the 90s and every since then looked wrong).

Unlike the ridiculous but adorable monster charms and wallets, the fur monster heels will likely attract negative attention in future seasons. The shoes are conceptually cute but they look like a DIY puppet shoe and remind me of nutcrackers. These shoes are trying too hard to be cool and you'll look that way too.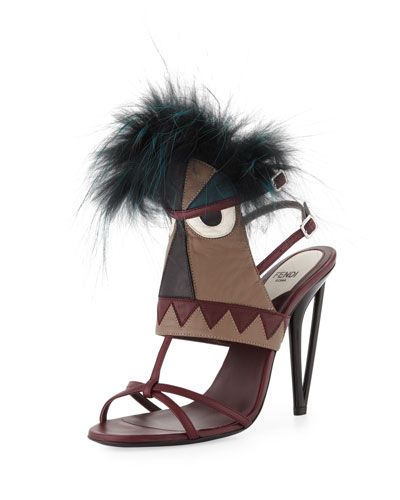 Verdict: You can be chic on a budget by allocating your money towards wardrobe pieces that remain relevant. In this case, my main problem with the monster charms is wear. As to my image grid above, I think that the second row more so captures designs that are worth the splurge in terms of cost per wear because they can have a longer lifespan than the items in the first row but I will spend my money elsewhere.

If I were to pick something from this collection it would be the Peekaboo medium leather and calf hair tote. This piece is playful but sophisticated and can work for both work wear and weekend looks. I also love that Fendi customarily provides a pop of semi-hidden design with these totes. A Fendi Peekaboo is on my imaginary fashion checkoff list but ultimately I remain unmoved and go for other 'checkoffs'.

Do you think any of the Fendi monster items will remain stylish?
♥
Thanks for reading and supporting my blog!
♥