As we reach the end of October, Halloween costumes for women become more difficult to find. Instead of squeezing into a leftover children's costume, DIY your Halloween costume!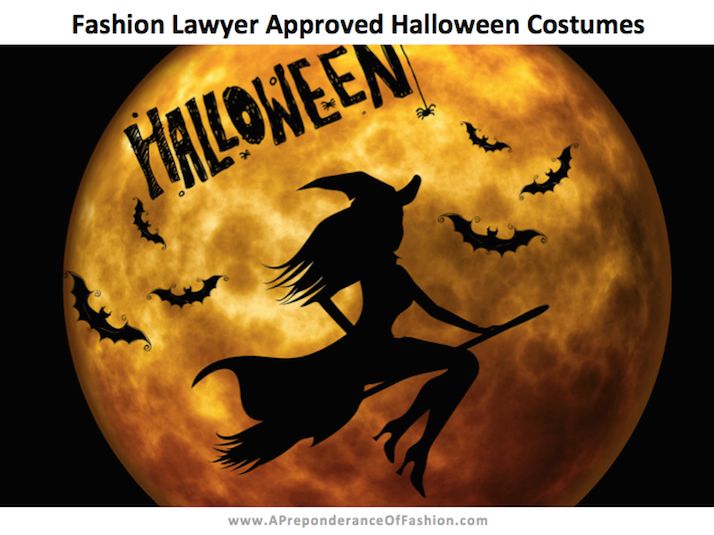 Naturally, I will cover fashion law inspired Halloween costumes for women. Simple costumes that you can create over the weekend.
Exploiting trademarks and trade dress for monetary gain can cause brand dilution and tarnishment. But doing so for your own DIY Halloween costume will not make you the subject of a lawsuit. Well, surely not a successful one. 😉 So get inspired like Jeremy Scott* and create a unique Halloween costume that can help you win a costume contest.
What are you dressing as for Halloween?
Moschino Resort 2016 is a great source of inspiration. The seven outfits above are actual "high fashion" Moschino looks that you can (mostly) create with dollar store items:
For the craft part of these DIY Halloween costumes, opt for fabric paint pens and/or fabric Sharpies and/or iron-on transfer pens and/or washable paint pens.
The high-end looks below also make for easy Halloween costume projects.
Of course, if you do not have cute accessories and would need to shop anyway, why not go all out? Dress as a fashion icon for Halloween. Want to keep it law themed? Dress as Amal Alamuddin Clooney.
---
* For those of you living without a WIFI signal or any fashion magazine subscription, Jeremy Scott took over as creative director of Moschino in October 2013. You may have noticed that since then Moschino has been increasingly difficult to decipher from post-parody fashion.
---
Links à la Mode, October 29